Troy Jackson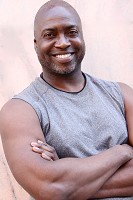 Troy was looking for a positive change in his life when he found Philly Power Yoga and began training with Steve Gold. Through his daily practice on and off the mat, Troy created the positive change he sought. Through the tutelage of Steve, attendance at Baron Baptiste Level One Teacher Training, and various other workshops, Troy has deepened his knowledge of yoga and shares this with the Philly Power Yoga community. Troy invites students to find their own inner power through a vigorous class that will make them sweat and inspire change at the same time. After earning his Masters Degree in Social Work at Bryn Mawr College, Troy continues to inspire change within the community in his work as a licensed therapist in Philadelphia.
"Troy brought me to the mat. He made me understand that the practice is about you and not anything or anyone else. Being in his class has changed my life. His guidance and caring is priceless."
-Jeff Palmer
-Julia Bringhurst.
"Troy inspires his students with a challenging workout and compassionate approach. I always know I will leave Troy's class having strengthened and stretched my body and mind."
-Hally Bayer
"I have had the good fortune of having Troy as my Yoga instructor for some time now. Troy's teaching philosophy is based on two points. First, take your practice seriously but don't take yourself seriously. Secondly, the practice of Yoga can be a unique experience for all participants. As a result, Troy reaches the perfect balance in his teaching method: Classes are physically and mentally intense and challenging but are always in context of a very relaxed, positive, and comforting atmosphere. Furthermore, while Troy gently pushes students to their physical limit, he always stresses safety and encourages students to modify their poses whenever needed. As Troy likes to say (while all of us are sweating profusely on our mats!) "Even if you just come here and quietly meditate on your mat, you are practicing Yoga." There are other qualities Troy holds that are not as quantifiable as his high degree of professionalism and his deep knowledge of his craft - He's just a cool guy to be around that makes one feel comfortable practicing Yoga."
-Max Fisher
Troy Jackson instructs the following:
Let our expert instructors take you to your edge and beyond with a unique sequence of flowing asana's (poses) linked together by breath. In a room heated to 90 degrees, this Power Yoga is guaranteed to increase strength, cardio-vasular endurance and flexibility. Bring a mat, towel and water, 'cause you're gonna sweat!