Colleen Kropp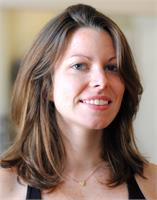 Yin Yoga Instrutor
Colleen is originally from the Greater Philly Region, but just recently moved back in 2010 after spending time in Manhattan, where she earned her BA in English Lit from NYU and later worked in the city while prepping for the grad school life that would bring her back in Philly. She is currently a doctoral student of 18th c. English Lit at Temple University. She maintains both a very active and restorative yoga practice and has been a member of the PPY family since May 2012.
Colleen is one of the Yin instructors at PPY, having received her certification in 2011 from Wake Up Yoga in South Philly. Besides reading 18th c. novels and practicing yoga, she enjoys biking and walking around the city with her Shepherd-Rottweiler, Sappho.
Colleen Kropp instructs the following:
This style of slow, relaxed stretch based yoga is the perfect complement to Philly Power Yoga's signature style. In Yoga Stretch, we gently move into poses designed to help with flexibility. Each pose is held for 3-5 minutes so you get the fullest possible stretch as well as time to relax your mind and connect to your breath.




Strengthen and lengthen in this open-level Pilates mat class targeting your favorite (or soon-to-be favorite) body parts. Feel strong, sexy and empowered to embrace your beautiful body!




Let our expert instructors take you to your edge and beyond with a unique sequence of flowing asana's (poses) linked together by breath. In a room heated to 90 degrees, this Power Yoga is guaranteed to increase strength, cardio-vasular endurance and flexibility. Bring a mat, towel and water, 'cause you're gonna sweat!