Laura Baehr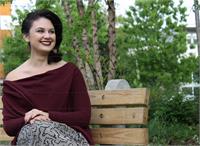 Laura Baehr began training in Pilates while rehabilitating from severe hip tendinitis. Since then she has made a full recovery and seeks to share the power of this movement system with others. Laura completed the Drexel Pilates Certification program under the direction of Jennifer Morley. Laura Baehr is a dance artist and teacher from Philadelphia, Pennsylvania. She earned her dual degree in Neuroscience and Dance from Muhlenberg College and is currently pursuing her doctorate in Physical Therapy from Temple University. Laura's performance background includes concert dance, mask work and dance theater. In addition to performance and choreography, she is an adjunct dance faculty member at Eastern University, Pilates instructor at Philly Power Yoga & Thrive Pilates and Drexel University and a Dance for Parkinson's Disease instructor. Laura has a special interest in harnessing biomechanical awareness as a tool to increase strength, confidence, and quality of life.
Laura Baehr instructs the following:
This mat class is a great place to start for beginners or those new to Pilates altogether. The slower pace and modified exercises will help you to learn the system and prepare you to join open level mat classes as you progress.




A classical Pilates mat class with flow and balance. Modifications for both increasing and decreasing challenge will be available in class as well as potential use of Pilates props. Progress your technique and form and bring your understanding of Pilates and your body to heightened levels of awareness!