Marielle Rubin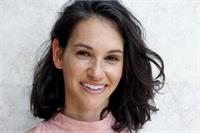 Originally from Boston, Mari is a recent Philly transplant. While she was originally fully trained on the mat through Balanced Body, she did an additional mat training and her full apparatus training through Drexel University. Mari fell in love with Pilates a number of years ago, as the practice taught her to approach her physical and mental health in an intuitive way, and she loved how emotionally empowered and physically strong she felt after each class. She loves how precise and purposeful the practice is, and she wants her students to gain strength, stability and really challenge themselves throughout her classes. While constantly looking to help her clients challenge both their bodies and minds, Mari believes that hard work, discipline and confidence will help them accomplish their goals.
Marielle Rubin instructs the following:
This mat class is a great place to start for beginners or those new to Pilates altogether. The slower pace and modified exercises will help you to learn the system and prepare you to join open level mat classes as you progress.




Play around with props in this creative & challenging class! All levels are welcome, but keep in mind that props often serve to amplify the practice, making this a more challenging flow.




Wake up your body and mind with a Pilates flow designed to strengthen and stretch your body. Leave feeling invigorated and ready to take on your day!




A full intermediate/advanced class utilizing the original series of exercises as created by Joseph Pilates. This class will challenge and take you to a new level of awareness of your body and technique. Recommended for people with strong technique and experience with Pilates only.




An open level, lunchtime Pilates Mat workout. Pop in over lunch to get your body moving and blood flowing! Written up as one of the best mid-day workouts in Philly, it's guaranteed to be effective and challenging!




Our signature Pilates Mat Class, perfect for practitioners of all levels! This flow is geared towards beginners and advanced practitioners alike, utilizing creative modifications and amplifications. Expect a great workout utilizing all of the classical mat work and Pilates fundamentals.