Nicole Long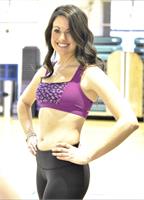 Nicole is a classically trained and fully certified Pilates Instructor who completed her training at Equinox in New York City. She has been teaching mat classes since 2015 and is thrilled to share her love for Pilates with her new community of Philadelphians!
Nicole found her love for Pilates after an injury put a halt to her running and typical gym workout. Pilates is low impact and can be modified for all injuries, weaknesses, and inflexibilities. She loved the notion of Pilates being for everybody's, every body! Nicole teaches her classes with flow from start to finish and believes each class or session needs to be a full body workout!
Catch Nicole teaching group classes or on the equipment in the studio!
Nicole Long instructs the following:
Our signature Pilates Mat Class, perfect for practitioners of all levels! This flow is geared towards beginners and advanced practitioners alike, utilizing creative modifications and amplifications. Expect a great workout utilizing all of the classical mat work and Pilates fundamentals.




This mat class is a great place to start for beginners or those new to Pilates altogether. The slower pace and modified exercises will help you to learn the system and prepare you to join open level mat classes as you progress.




A classical Pilates mat class with flow and balance. Modifications for both increasing and decreasing challenge will be available in class as well as potential use of Pilates props. Progress your technique and form and bring your understanding of Pilates and your body to heightened levels of awareness!




Strengthen and lengthen in this open-level Pilates mat class targeting your favorite (or soon-to-be favorite) body parts. Feel strong, sexy and empowered to embrace your beautiful body!




An open level, lunchtime Pilates Mat workout. Pop in over lunch to get your body moving and blood flowing! Written up as one of the best mid-day workouts in Philly, it's guaranteed to be effective and challenging!




Thrive TRX : A full body burn that works for every body. You will elevate your strength, stamina, balance and control. Experience innovative exercises that will hit every muscle group, get your heart pumping and leave you feeling accomplished and rejuvenated. Small class size=individual attention and feedback from the teacher to help you progress. Dope beats=motivation to move. After strengthening the body head-to-toe, you will stretch, breathe and end with a mindful moment to soak in all the positive vibes.

*We recommend sneakers for the first part of class-but they are optional.